Content is king - we all know that! It's what feeds us at every moment of the day, for work and play, either through our favourite news websites, or via social channels, blog posts, webinars, YouTube, the list goes on.
However, I think you'll agree with me when I say it's really hard to write effective content that is popular, ranks on Google and drives traffic to your site. Especially with Google's RankBrain algorithm measuring how interesting our content is and ranking according to user interest.
But don't worry, in this article we explain 10 simple steps to ensure your content is not only fit for a king, but also for Google too!
10 steps to great content writing
We can help you with your SEO content writing or you can read on to see how to do it yourself. You choose.
Prefer a DIY approach? Read on …
Knowing your audience is half the battle
We all think we know our audience, but do we really?
When was the last time you thought about what your customers are looking for? Is it the same thing as they wanted 2 years ago?
According to recent research by Accenture, 54% of consumers switched loyalties in the past year. There is more choice and more influences than ever before.
What about your compeition? Are you sure you know who they are? Try typing into Google some search terms your customers might use. This will usually reveal some surprises in terms of competitors.
Your services and your website may have evolved over a number of months or years and on top of that, the needs of your customers change, new competitors change the balance, meaning you might not have the same customer groups as you once had.
Before you start content writing you need to make sure you are clear on your key target market segments and their requirements. Check out content marketing strategy for tips on this.
Only when you truely know your audience and their current needs will you be able to complete effective keyword research, which is needed for my next point - choosing the right subject matter for your post.
Choose a niche topic
Hopefully you have built a content plan for the next few months, but if you haven't you really need to do this first. There is no point in writing a load of content without first checking it has a chance of ranking higher than your competitor content. You need a content strategy to organise your content marketing ideas. If you have not done this yet, you can learn how to build your content plan.
Focus on one of your keyword topics you haven't written for yet. You can collect together some related keywords, but don't try to wedge them in unless they are going to fit naturally.
Your keyword list is based on the search terms your customers would type into Google to find your services. If prepared well, it should reflect the essence of what your service is about, and when your content is divided into sensible topics and written around this list, your site has a high chance of ranking. See keyword research.
But exactly how should you use your keyword list to choose your topics?
Choose your topic based on a focus keyword which has a search volume of at least 1000 searches per month.
If none of your keywords have search volume of 1000 or more searches per month then this is when it's useful to group together a few related keywords, whose collective search volume adds up to around 1000.
Pay attention to keyword difficulty though - there is no point in trying to rank for a keyword which is too competitive for you at this stage of your organic growth.
If you have budget for PPC, then use it to rank for the keywords which are too difficult to rank for organically. Don't worry though, as you grow your organic traffic, your domain authority will increase over time. Eventually you will be able to try to rank for the more competitive keywords.
Research the competition's content
Google is just trying to serve the highest quality content to their users, this is what all the fuss is about. This is the reason why we need to be acutely aware of the competition's blog posts, and analyse how they are answering your customers' questions.
So, pick one of your main focus keywords and put it into a Google search. Look at the competition's articles, find their weaknesses, how can you make your content better? Maybe their content doesn't really answer the question, doesn't read well or is out of date.
Be original or go home. If you can't find an original angle, narrow your approach and find a niche.
Have a look at the kinds of articles that Google is ranking for your chosen focus keyword. What are they favouring? How to guides? Top ten lists?
Easily digestible content is what you need to focus on in your content writing. A top ten list is fairly easy to digest, whereas a big block of text is much harder to read.
When preparing to write an article you should have in mind exactly the format and content you need to address to give your customers the best experience for that search term.
Good headers can decrease your bounce rate
Headers are what most people use to quickly judge whether the page is going to answer their question or not.
Your headers can be the reason why people head straight off your website. They need to grab attention and then your section content needs to hold attention by rewarding your readers with the answers to their searched questions and queries.
But how do you actually do this?
Firstly, include benefit statements in your headers.
What do I mean by this?
Which header would make you read on if you wanted to buy some dog food?
a) Dog food b) Hypoallergenic dog food can save you up to 23% on vet bills over your dog's lifetime.
I'm guessing you'd read the second one because you'd probably want to find out how to save the money.
It's all about making your content digestable and useful, which brings me onto the next point.
Actionable content ranks higher
What do we mean by actionable content?
It's content that is full of actions for the user.
What is the point of your content? Is it to help someone do something? Learn a skill? Does it fire your reader with enthusiasm and get them up and running on their own? If not delete it.
For this content writing article, I want people to take action and use some of my ideas when writing their content. I want them to be empowered and write better content.
But why would I do this when I'm selling a content writing service?
Good question. The reason is that I would always rate (and bookmark) a website which gave me actionable content. I'd refer back to it frequently for more good tips and I'd probably recommend it to my friends.
So I'm happy if lots of people are sharing my content because at some point in the future, one of you might need a little extra help, and we're right here for you when you do.
Just take a look at the website URLs which are ranking on page one for one of your main keywords. What is good about the content? Is it clear, easy to read and digest? If the answer is "no", then what are you waiting for? You could enter the first page with your brand new actionable content.
Write naturally
No one can deny that it's really hard to write naturally when trying to adher to so many guidelines and suggestions.
But simple language, succinct, original copy is what's required with SEO content (no duplicate content please, we don't want a Google penalty.)
And no keyword stuffing either! Whatever method you use to keep track of your keyword use, you need to ensure you don't fall into the trap of keyword stuffing. This is when you are so keen to include your keywords that your resultant copy doesn't read naturally.
How are you supposed to write naturally and make sure you include all your keywords?
Well, firstly, if your keyword research and content plan has been done well, then your keyword list for each article should naturally fit together.
I find it best just to focus on the main keyword for the page and really try to think about what I'd be wanting to read if I had search on that term.
I'd start by planning the sections, so all the topics I want to include are covered. Then just fill in the sections with your actionable content.
At the end, once my article is complete I'd review it for keywords and if I've missed some out, I'd rework the text to fit in the missing terms.
It's useful to use a keyword stuffing checker, sometimes known as a keyword density checker, such as the one provided by smallseotools.com, which is a free SEO tool. Or you can check this and other SEO properties of the page with tools from paid-for tools like you'd find on moz.com.
If you use WordPress, then the tools you get from Yoast (the SEO plug-in) will provide an analysis of the quality of your writing and give you a score which you can improve on.
The final tip is one that you will have heard many years ago at school, but still stands - give it a day or so and re-read your work to check it is naturally written.
How long should a blog post be?
There is no guidance from Google on this but if you look at the blog posts which are ranking, you will often find they are between 800 and 1000 words long. If your article is less than 500 words, it's unlikely to rank, simply because it's hard to explain something in such a short blog post.
There's nothing more frustrating than clicking onto an article to learn something, only to find it isn't going into enough detail.
This doesn't give you a licence to write waffle. The minute you bore your reader, they are off looking elsewhere and Google makes a note not to send people to your site. Don't do it.
The most important thing in terms of blog post length is to ensure what you are writing answers your readers' questions and gives them knowledge they didn't have before.
You have 2 seconds to make a first impression
How many of us have clicked on a SERPs result and within a couple of seconds have closed the tab because it either doesn't work on mobile or is badly laid out so you can't find your way round easily?
It sounds lame but honestly, if your site is unattractive and difficult to read then people will exit and not return. Pay attention to layout, use infographics, include videos and plenty of pictures to break up copy and illustrate your point.
What is an infographic and should I use them?
An infographic is a diagram which explains something you are trying to convey in words. A picture paints a thousand words, so use pictures and diagrams to help explain what you are trying to say.
You can easily make a word cloud, like this one, using websites such as tagcrowd.com.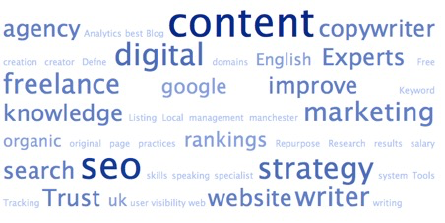 Or you could make an infographic using canva.com like this one.
Both websites are free and easy to use and enable you to make simple graphics to enhance your blog posts.
Whatever infographics you choose to include, make sure they look ok on a mobile device. Google has a mobile first strategy, which means if your site is not mobile friendly then it will just choose another which is, when deciding whose site to rank.
Using a plagiarism checker can protect you from penalties
You'll get your inspiration from a variety of sources and hopefully write your content once you have something orginal to say, so plagiarism shouldn't be an issue. However, with the best will in the world, sometimes you will subconsciously regurgitate a someone else's thought.
How do you ensure you don't get a Google penalty when you are trying to improve your rankings?
Well, there are a few reasons why you might get a rank penalty but the one we are talking about here is for duplicate content.
To guard against inadvertently producing duplicate content, simply run your content through a plagiarism checker such as a free tool from smallseotools.com or try a free trial with PlagScan.
This is the sort of report you can get when you check your content using the plagiarism checker from smallseotools.com.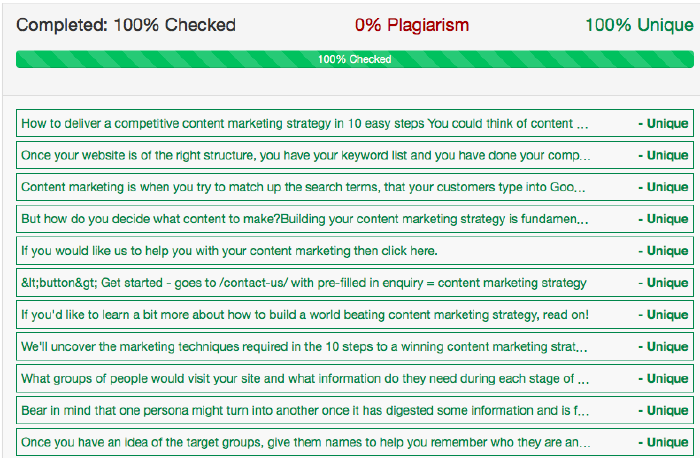 The more often you post more content, the quicker you will start ranking
So write regularly and often. But how often?
It can be really hard to keep on top of the sheer volume of writing, but there is no doubt that writing and posting new content 3-4 times per week will give you a fast track to gaining ranking keywords and then following that, traffic.
This is exactly what we did for an online retailer and after ten weeks we went from 1 ranking keyword to 229.
But how does that help? You want traffic, not ranking keywords, right?
Yes, but traffic only comes from ranking keywords. Once you have a keyword ranking for a page, you can tweak the meta description, this is the 2-3 lines of text that shows under your URL in the SERPs for a ranking keyword.
How do you know what to write in the meta description?
You look at the highest ranking keyword with the largest search volume for the page and imagine what that person who types that into Google actually wants to see. Then ensure your meta description reflects what is on the page which is particularly relevant to the keyword in question.
It's not over there, you need to revisit and update your article every 3-4 months to stay on top and keep optimising.
If you have a comments section at the bottom, you can constantly improve the content by answering the questions that come up from your readers. If they point out some detail that is missing then sort it out, add in a section to cover the issue in the main body of the article.
How many blog posts do I need to write each week?
Google don't give any guidelines on how many blog posts to write each week, but in our experience, if you write four posts per week, then this is likely to get you to start ranking in Google.
Don't post them all at once, though. You need to space out your posts evenly so that you frequently have something new on your site. The reason for this is because when the Google bot crawls your site, if it finds something new, then it will come back and crawly the site again sooner than before. If it doesn't find anything new then it will come back a little later than before.
You really want Google to crawl your site regularly so that you benefit from the new content as quickly as possible. You can't benefit from it until it has been registered with Google, which is why you want regular crawlings.
Conclusion—content is king, make sure it's fit for a king
SEO content best practices
Know your audience

Choose your topic and focus keyword for the page

Do competitor research to make your content better than theirs

Pay attention to headers

Write actionable content

Write naturally

Be thorough - try to make each blog post a decent length

Make it look good, include infographics and diagrams

Don't create duplicate content - use a plagiarism checker

Write regularly and often
We can help you write your content. If you want content fit for a king (and that knocks spots off your competition), give us a shout, we're here to help.