Rocket fuel for your website
What is content marketing? You could think of content marketing as being the fuel for your website engine. Once your website is of the right structure, you have your keyword list and you have done your competitive analysis and content plan, then you are ready to begin your content marketing.
Content marketing is when you try to match up the search terms, that your customers type into Google, with information that satisfies their search.
But how do you decide what content to make? You need a content strategy.
10 steps to a rocket-fuelled content marketing strategy
Building your content marketing strategy is fundamental to SEO marketing, in fact it's one of our core SEO services. If you would like us to help you with your content marketing then click here.
If you'd like to learn a bit more about how to build a world beating content marketing strategy, read on!
We'll uncover the marketing techniques required in the 10 steps to a winning content marketing strategy.
Sound's good? Let's delve in to explain exactly what's involved in each of these steps.
Understand your market
What groups of people would visit your site and what information do they need during each stage of their buying cycle? Create personas for your key target segments to help you get to know them better. Bear in mind that one persona might turn into another once it has digested some information and is further down the buying funnel.
Once you have an idea of the target groups, give them names to help you remember who they are and what they are looking for.
Find pictures online to represent your personas and stick them on a board in the office to help your team focus on who your customers really are.
Match personas with your services or products
For each segment or persona, make a list of the things (services/products) they might be looking for that you could provide. It might help to do this with Post-It notes so you can move them around more easily.
Once you have all the services listed, it's time to see what groupings you have.
Use the groupings to help define your navigation and sections required for your website.
Keyword research
This is the fundamentally most important step in SEO content marketing. For each target persona group, do your keyword research.
Make sure you choose the keywords which are achievable for your current domain authority and ability to get backlinks. Your ability to get backlinks will depend on the quality of the content you want to share as well as the relationships you have been nurturing with your target publications.
Group your keywords
Organise your targeted keywords into sensible groups or topics that would satisfy the searches of your customer groups. Work out your topics—from your keyword research.
Plan to produce topic clusters, which is one main topic linking to many spin off articles covering related longtail keywords, rather than sporadic unlinked articles.
Web architecture audit
Audit your navigation and possibly re-structure it to reflect the topic needs of each target segment. If people need information before they visit your online shop and to help them down the buying funnel, make sure it is easy to find and well organised. Similarly, if people are ready to buy, then make sure it's very obvious where they do this on your site.
Content audit
Audit your existing content on your website. Over the last few years or months you might have ended up with many similar articles or blog posts which just add confusion to your visitors and to Google. If it's not clear which blog post answers the searcher's question, then Google might just by-pass your site.
It's important to organise the posts into groups, and decide whether to 301, canonicalise or do an SEO review of the pages to add clarity and sharpen up your SEO.
Optimise existing pages
Following your content audit you will have some pages that need optimising, but how should you do this?
Firstly it's important to identify a focus keyword for the page and ensure this phrase is in the meta title and first paragraph.
You need to also find out what your competitors are ranking for this term and try to incorporate these topics into this page. This will extend the copy and make it more competitive.
You can also add in infographics and diagrams, but ensure you give them meaningful image tags so the page is useful to visually impaired people as well as fully sighted.
So in summary, optimise your existing landing pages for the right keywords. Pay attention to meta title, meta description, header tags, image tags.
Identify new content ideas
These might be blog posts, articles, videos, infographics, social media posts. Make sure each piece of content is centred around a specific keyword and its related keywords - the more landing pages you have, the more rankings you will get.
But how do you decide what to write about?
This is where your keyword research comes in. There will be plenty of terms on your list that you have not already earmarked for an existing page.
Look carefully at your keyword research and topic groups and select a group of keywords which form a topic.
Also, use tools like Ahrefs to find competitive articles which are driving a lot of traffic but that you think could be improved, and do just that - write a better article, more thorough and more attractive to read.
Use tools like Buzzsumo to see what topics are being shared most often on social media, and write blog posts about these, but with a new spin on the idea.
Never just copy content, it always needs to have a different twist or be more in-depth or better in some other way.
Here's an example method of finding competitive content ideas using SEMrush.
Using the grass seed example we talked about in our article on keyword research, we can use a digital tool such as SEMrush to delve into finding out just who is taking your organic traffic. Below you can see the Organic Search Results table for the term 'grass seed uk'. This table shows the top five ranking website pages for this search term.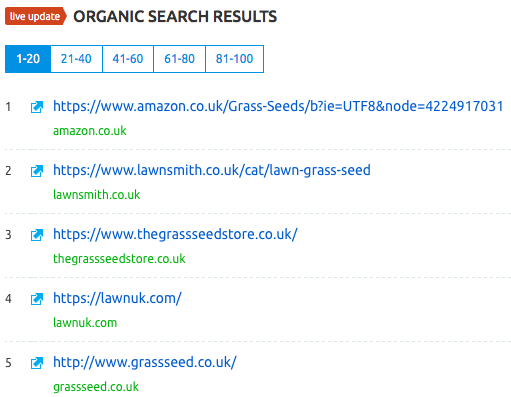 Of course, Amazon is ranking at the top and this is because of its high domain authority of almost 100.
Don't try to compete with Amazon on organic search results! But the next one which is ranking in second place is www.lawnsmith.co.uk/cat/lawn-grass-seed.
If we take a look at this page on the Lawnsmith site, we see a few products for sale, each with a product description, as well a very small amount of copy at the bottom of the page. It doesn't look like a brilliant SEO page, but looking further into SEMrush reveals the fact that this page is ranking for 73 keywords and has one external link to another site. So it turns out it is very effective for this particular search term.
The top ranking keywords are in the table below.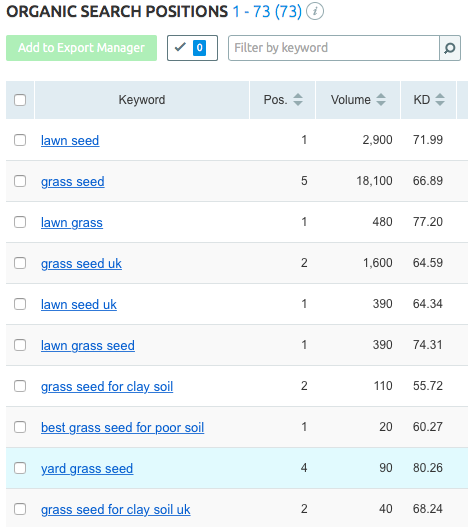 What do we need to do if we want to rank for 'grass seed uk'? We need to build a better page than this one, with more than one external link.
We start by taking the keywords that this page is ranking for and writing a more attractive, informative article or blog post with natural copy which uses these keywords. And once we have our page, we contact the site who linked to the Lawnsmith page and ask them if they want to link to ours.
Building a content plan
To build a content plan, we use the technique described above, choosing another of our target keywords, maybe 'how long does it take for grass seed to grow' and finding which competitors are ranking for this page, how many external links they have and which keywords they are ranking for.
We continue with this method, going through each keyword in our list doing the same thing, checking out the competition and finding opportunities to out-rank them. Take care to choose articles which don't have too many external links, as these can be hard to gain.
Content writing
Once you have identified the right topics, it's time to get cracking with the writing.
To make an impact on SEO rankings, you need to be posting about 3-4 articles a week. Just one article a week will just be too slow to notice any change.
If you need help with this amount of content writing, reach out to us, we have a whole team of subject matter experts just waiting to be creative for you.
You need to make sure that the content writing is high quality SEO writing, natural and not repetitive, but also includes your keywords. It's quite a skill and fun too.
Outreach
Outreach your content, but how to do this when you don't have relationships with top publications?
Firstly it needs to be content that is more valuable than content that is already being linked to by the publication. Then you need to gently point out the enhanced value with a polite email to the website owner. It helps if you identify some key outreach target contacts and start building a relationship with them through the relevant social channels, so it's not a cold email.
Share content
Once you have posted your content on your blog, don't forget to tell people about it via social channels and email.
Conclusion
So what is content marketing? It's all about answering questions that your potential customers might ask, drawing them closer to your website and your services.
And how do you know what content to produce?
You already know the search terms that you are trying to rank for, because you have developed your keyword list. You also know what articles you need to write in order to out rank your competitors, because you have developed your content plan from the competitor analysis you did previously.
All that remains is to write the articles, post them on your blog and try to get external links to the content you have written.
But don't forget, your content strategy depends on establishing a solid SEO foundation, starting from a well-structured website. Knowing your customer is essential to being able to build a targeted keyword list, but once you have this you are in a position to review and amend your existing content and plan new material. Then it's just a matter of delivering high quality sharable content, according to your plan.
And this is something you need to revisit regularly, to stay on top of the competition, the process outlined above is a loop which repeats every 4-6 months.
If you'd like us to help you with your content marketing strategy or any part of it, get in touch.